Your Escape Details
Bavaria is brought to life during excursions to UNESCO World Heritage-listed towns whilst every corner turned on this journey down the Moselle & Rhine unveils rich history.
8 Wonderful Days
Our small group tours are specifically selected to bring you deeply into the destination. Food, drink, people, customs and soft adventure activities to get you close to the natural surroundings. Specifically on this trip you will enjoy food and wine tastings, walking tours, bike rides, all through the story book Bavarian region of Germany.
Our service is second to none, from your decision to join our tour, throughout the trip and when you get home, we will be there for you.
Each escape brings you experiences you wouldn't find on your own.
This river cruise aboard the beautiful Emerald Sky begins in Nuremberg August 17, 2020 and ends in Frankfurt August 24, 2020 (with optional pre and post add ons)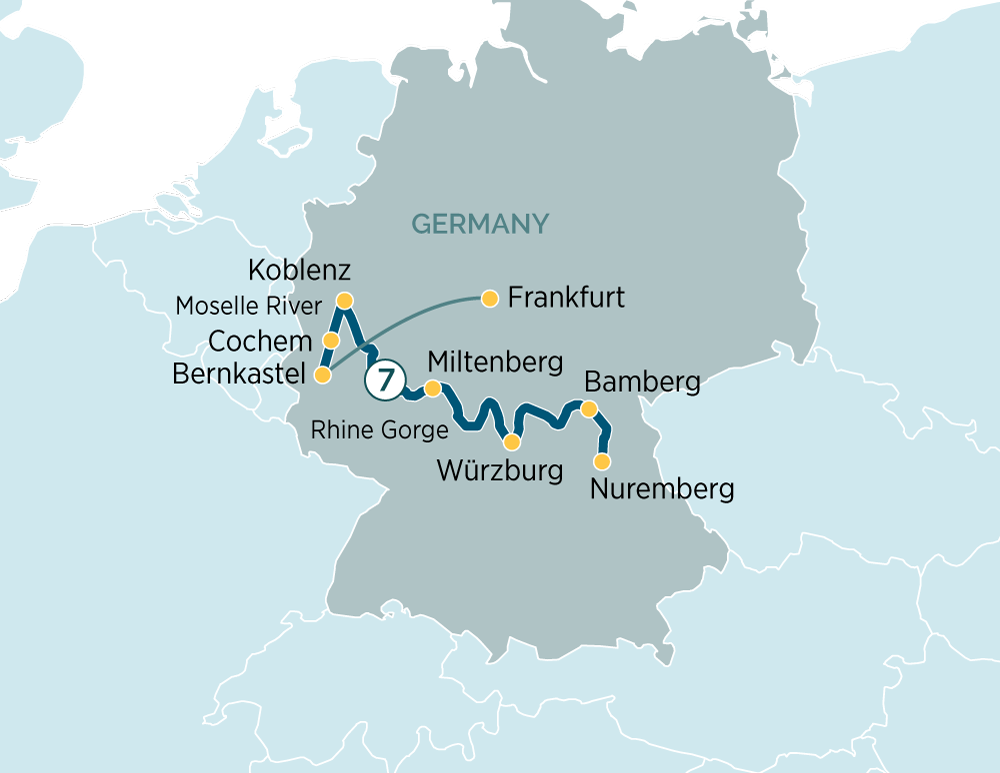 Itinerary
Day 1 – Arrival Nuremberg – Embarkation
Transfer from Nuremberg Airport and board your Emerald Waterways luxury river cruise ship where you will be welcomed by your Captain and crew. Nuremberg is situated along the Main–Danube canal, an engineering masterpiece linking the rivers of Germany with the mighty Danube which flows from the Alps to the Black Sea.
Meals Included: Dinner
Day 2 – Bamberg
Relax on board this morning as we cruise to Bamberg. Feel the magic of the past as you explore this UNESCO World Heritage city with your guide. Boasting one of Europe's largest intact medieval town centres, Bamberg is bursting with character and charm. At the town centre is the largest preserved old quarter in Europe. Around 2,400 listed buildings and the centuries–old garden quarter form a special cultural heritage. Admire hundreds of building façades richly decorated in fascinating detail with spectacular ornamentation. This evening, the Captain will be delighted to welcome you to the Captain's Welcome Dinner.
Meals Included: Breakfast, Lunch, Dinner
Day 3 – Würzburg
Known as the "Pearl of the Romantic Road", Würzburg is surrounded by sloping hills covered with vineyards. Visit the Bishops' Residenz, one of Germany's largest and most ornate baroque palaces and a UNESCO World Heritage Site. Your tour highlights the palace's unique staircase, elaborate 18th century frescoes and the amazing 3–dimensional stuccowork.
EmeraldPLUS: Wine tasting at the Bishop's Residenz Cellar
Meals Included: Breakfast, Lunch, Dinner
Day 4 – Wertheim – Miltenberg
Wertheim and Miltenberg, are both quaint villages on the Main River. Today, you will have an included tour of the picturesque Miltenberg, which creates an imitable feeling of Bavarian life in medieval times due to the Old Town being lined with well-preserved half-timbered buildings. The gothic Merchant Hall is an impressive symbol of past affluence created by trade from river traffic.
EmeraldACTIVE: Guided hike around Miltenberg area
Meals Included: Breakfast, Lunch, Dinner
Day 5 – Koblenz
Today you arrive in Koblenz, where you will have a guided tour and a chance to visit the Ehrenbreitstein Fortress on the opposite side of the river. This fortress was part of the Prussian defences against the French in the 19th century and later used as a headquarters for the American military during WWII. In the afternoon, sail through the spectacular Rhine Gorge, passing countless castles and vineyards as well as the infamous Lorelei statue and Pfalzgrafenstein Castle, which was built on an island in the middle of the river as a medieval toll station. Countless vineyards and medieval castles line the shores of this section of the river, with photo opportunities at every bend.
EmeraldPLUS: Regional wine lecture on board
Meals Included: Breakfast, Lunch, Dinner
Day 6 – Cochem
Today enjoy the enchanting town of Cochem. In the morning you will have a guided walk and the opportunity to visit the Reichburg Castle. This evening the Captain will be delighted to welcome you to the Captain's Farewell Dinner.
Meals Included: Breakfast, Lunch, Dinner
Day 7 – Bernkastel
Dating back to 3000BC, Bernkastel is situated along the banks of the Moselle River and home to well-preserved buildings dating back to 1416. Enjoy a guided walking tour, where you will have a chance to stroll through the medieval marketplace with its gabled timber-framed houses castle ruins and town gate. Historically a winegrowing town, vines cover the steep-slopes surrounding the village. Alternatively, you will have a chance to take part on a guided bike tour in the Bernkastel area. Tonight, the Captain will be delighted to host a gala dinner.
EmeraldACTIVE: Guided biking tour in the Bernkastel area
EmeraldPLUS: Wine Tasting
DiscoverMORE: Tour to Trier (extra expense)
Meals Included: Breakfast, Lunch, Dinner
Day 8 – Bernkastel Disembarkation – Frankfurt
After breakfast it is time to farewell your fellow passengers and disembark the ship for your transfer to Frankfurt Airport for your onward or homebound flight.
Please note: Pre release itinerary subject to change
Meals Included: Breakfast
Your Investment
Your Investment is per person based on double occupancy. You will select your cabin type based on availability. If you want a specific cabin type, please book early.
If you are a solo traveler, we will pair you with a same gender roommate to avoid single supplement fees. If you want a single room, please inquire about related supplemental fees.
The room rates are as follows:
Emerald Panorama Balcony Suites begin at $4095 per person (just $2895 per person if you choose the $1200 off.) PLEASE don't delay, this cabin type sells out quickly!
Grand Balcony Suite is $5045 per person (or $3845 per person with the $1200 off)
Owner's One-Bedroom Suite is $5845 per person (or $4645 per person with the $1200 off)
Because we have group space reserved, you have the option of either deducting $1200 per person from your fare or free economy airfare from one of 25 US based cities.
You will also receive $100 per guest additional discount from PlanUrEscape. (applied at final payment)

Deposit to hold your space is $500 per person and is non refundable.
If you prefer to make payments, please contact us and we will arrange a plan that works.
What's Included
7 nights on board an Emerald Waterways Star-Ship
Airport transfers to and from the ship
The services of an Emerald Waterways Cruise Director
Port taxes and charges
All tipping and gratuities
---
INCLUDED EXCURSIONS
Guided Tour of Bamberg
Visit to Bishop's Residenz in Würzburg
Guided Tour of Miltenberg
Tour of Koblenz and Visit to the Ehrenbreitstein Fortress
Visit to Cochem and Reichburg Castle
Guided Tour of Bernkastel
---
EmeraldPLUS
Wine Tasting at the Bishop's Palace
Regional wine lecture on board
Wine Tasting in Bernkastel
---
EmeraldACTIVE
Guided hike around Miltenberg area
Guided biking tour in the Bernkastel area
---
DINING HIGHLIGHTS
20 superb meals including 7 Breakfasts (B), 6 Lunches (L), 7 Dinners (D)
Captain's Welcome & Farewell Gala Dinner
Complimentary wine, beer and soft drinks served with lunch and dinner on board
---
How We Make Your Escape Awesome!
We are ready to answer your questions throughout the process via phone or email.
Once you sign up and pay your deposit:
We will send you a link to your My Trips account. You can view your trip details any time from your PC or Mobile Phone.
We will send you arrival and departure details so you can make your flight arrangements.
We will email you your final payment reminder about 1 week before it is due.
About two-three months before the trip we will send significant details like packing lists, further itinerary details, etc.
One month before the trip we will mail you your travel documents (or pass them out at a gathering for those local).
Facebook Group
You will be invited to a private Facebook group where you can meet, virtually, your fellow travelers, discuss the trip, make any preparation plans together, and share your excitement.
This is a river cruise tour so we will join the other guests on the cruise for excursions, meals, etc. As part of a group, you will have the option of joining the group for meals and activities, or you may want to venture out on your own. We may choose to add in a private activity just for our group and we will announce these add activities closer to departure. We attract travelers who are flexible and adventurous. A bit of spontaneity is a good thing!
You should know, our travelers are like you, they don't want a canned tour, they like a sense of freedom on their trip, they understand the value of flexibility in travel, and they love the idea of working with a planning team that understands and respects their travel values.
So, Is this Trip for You?
You love traveling with like minded people and a tour company that is focused on traveling deeply into a destination, knowing how to read the group and make the best decisions for a perfect trip.
You find joy in trying new things, food, activities, etc.
Plans are good, and important to a great trip, however, flexibility sometimes brings a deeper experience and it's OK with you.
You enjoy meeting and traveling with new people.
Some moderate physical activity will bring you the memories that make your trip special.
This Trip is Not for You If…
Travel is stressful and sometimes you find yourself anxious and frustrated when things don't go perfectly as planned.
New things, new situations, aren't really your thing.
You don't like trying unusual local foods.
You feel uncomfortable and unsafe in places that are 'foreign' to Western culture.
Too much walking for long distances is tough.
Frequently Asked Questions
How often will I change accommodations during the trip?
You will enjoy your floating hotel during the entire river cruise trip. If you choose to add on land extensions before and after the cruise, then you will be accommodated in a hotel.
Can I extend my stay?
Absolutely, adding a pre or post stay always enhances a trip. You spent the money to get there, why not stay a while? We will be happy to help you make plans.
What airport do I fly into and out of?
You will fly into Nuremberg and home from Frankfurt.
What are VISA requirements for these countries?
There are no visa requirements.
What type of currency is used in these countries?
The currency used is the Euro.
Who do I contact for other questions and travel advice?
Call us at 860-779-6531 or send an email to lwhittemore@cruiseplanners.com
What is the age group of my potential fellow travelers?
Our guests typically range in age from 45-75. They tend to be of an age where they are either already retired and traveling is an objective for them, or are getting close.
Groups tend to be predominantly female, although we are wanting a good mix of men and woman, solo and couples traveling.
In any case, our travelers are in good health, active and adventurous.
I'm not a tour person, will this be too much of a standard tour for me?
No worries here, your fellow travelers feel exactly the same way and so do we, your tour curators. Of course there are some parts of our tours that are standard, we travel often by a van or motor coach, we eat together and do activities together. What makes us different, are two critical things, we don't like traditional touring either, we work hard to be different. And two, you will always have the opportunity to choose. If you want to do something on your own or different than the group plan, you are welcome to do that.
We would love to have you join us! We will do our best to provide the opportunities and activities that allow you to make amazing memories and lasting friendships. We are looking forward to traveling with you.